Ben
I have been dreaming of travelling with a Land Rover for more than ten years – finally it's time to go! I finished my studies, got the car, had a decent career, now I think it's time to retire!? (at least temporary…)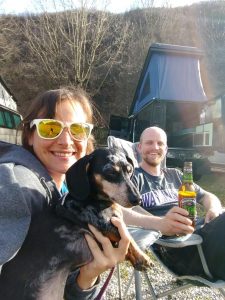 Obviously I like nature, I like to hike and I enjoy taking pictures, you can see some of my work at 500px.
Since two years I am also into running, however having not the best knees it's often a fight. Nevertheless, I was able to finish three half marathons, one in Switzerland, one in Seattle and one in Stockholm. The Seattle one was the best by far. I like to run on trails, thus I am looking forward to discover some shorter trail runs on my journey.
Rachel
I was born and raised in Seattle, and spent most of my life there other than a lot of overseas traveling and a year in Germany during University. I had dreamed of moving abroad again and recieved a great opportunity to move to Switzerland with a company near Zurich, where I have been since July 2014.
I met Ben a few months after my arrival and was introduced to this idea of long term overland travel. I wasn't sold on the idea right away, especially when I was settling into Swiss lifestyle and loving every minute of the hiking and travel opportunities right out my front door.  It has been a long rocky path getting to Go for me, including a 6 month period where I backed out of the trip all together. But in October I will join Ben on the road to explore Mexico and Central America with Ben. If all goes well during the first 3 months on the road, we will carry on as far the roads lead us.
Mitzi
Mitzi is Rachel's 11 year old miniature dachshund that is as sweet as she is stubborn.  She loves riding in the car, riding in her bag, sniffing out new places and meeting new people – and she's the perfect sized dog for the trip!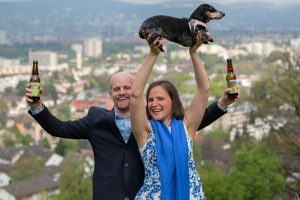 About Us
We met back in September 2014 and connected over our love of nature, hiking, running, travel and micro-brews. We spent the next two years exploring the Alps  and going on smaller trips together.  We hit a bump in the road as time came closer to departure and plans changed so that Ben would be traveling alone and Rachel would stay behind. After some months apart, we realised this wasn't going to work for us either, and now Ben will start the journey and anxiously await for Rachel's arrival.
Stuff your eyes with wonder. Live as if you'd drop dead in ten seconds. See the world. It's more fantastic than any dream made or paid for in factories.

Ask no guarantees, ask for no security, there never was such an animal. And if there were, it would be related to the great sloth which hangs upside down in a tree all day every day, sleeping its life away. To hell with that. Shake the tree and knock the great sloth down on his ass. – Ray Bradbury, Fahrenheit 451