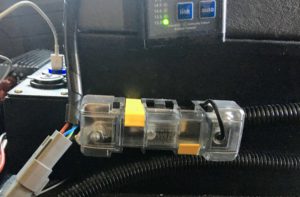 Another busy day in the barn 🙂 The power distribution is installed and ready to get some load! The water hose is also installed including the outlet in the back for cooking and cold showers, plus the whole interior is back in the car.
Because the original mounting kit for the Engel fridge is ridiculous expensive in Switzerland, I create customer one. I basically replaced the handles with an aluminum bar that can be used to tighten the fridge down. Saved about a $100, I guess this solution is good enough.
Next week will be busy with work, so not much time to work on the car but there's still a bunch of stuff to do. For example I need to built a mounting bracket for the Coleman cookstove, I want to replace the windshield-washer nozzles, install a cruise control and so on.
Oh, and there are only 84 days left until my last day at work!