No border crossing is without its headaches. There's always an element of an unknown going in – and for Brazil, it was the customs office lunch break. We got checked out of Bolivia quickly, received passport stamps for Brazil within minutes and headed over to get the TIP (Temporary Import Permit) for the car. We missed them by less than 5 minutes and had to wait 2 hours. On the plus side, no problems or hassles from authorities on either side.
Our first stop in Brazil was a grocery store in Corumbá, which was a pleasant surprise of variety after most of Bolivia. Our night in was just 10km from the border with a beautiful sunset view over the Pantanal.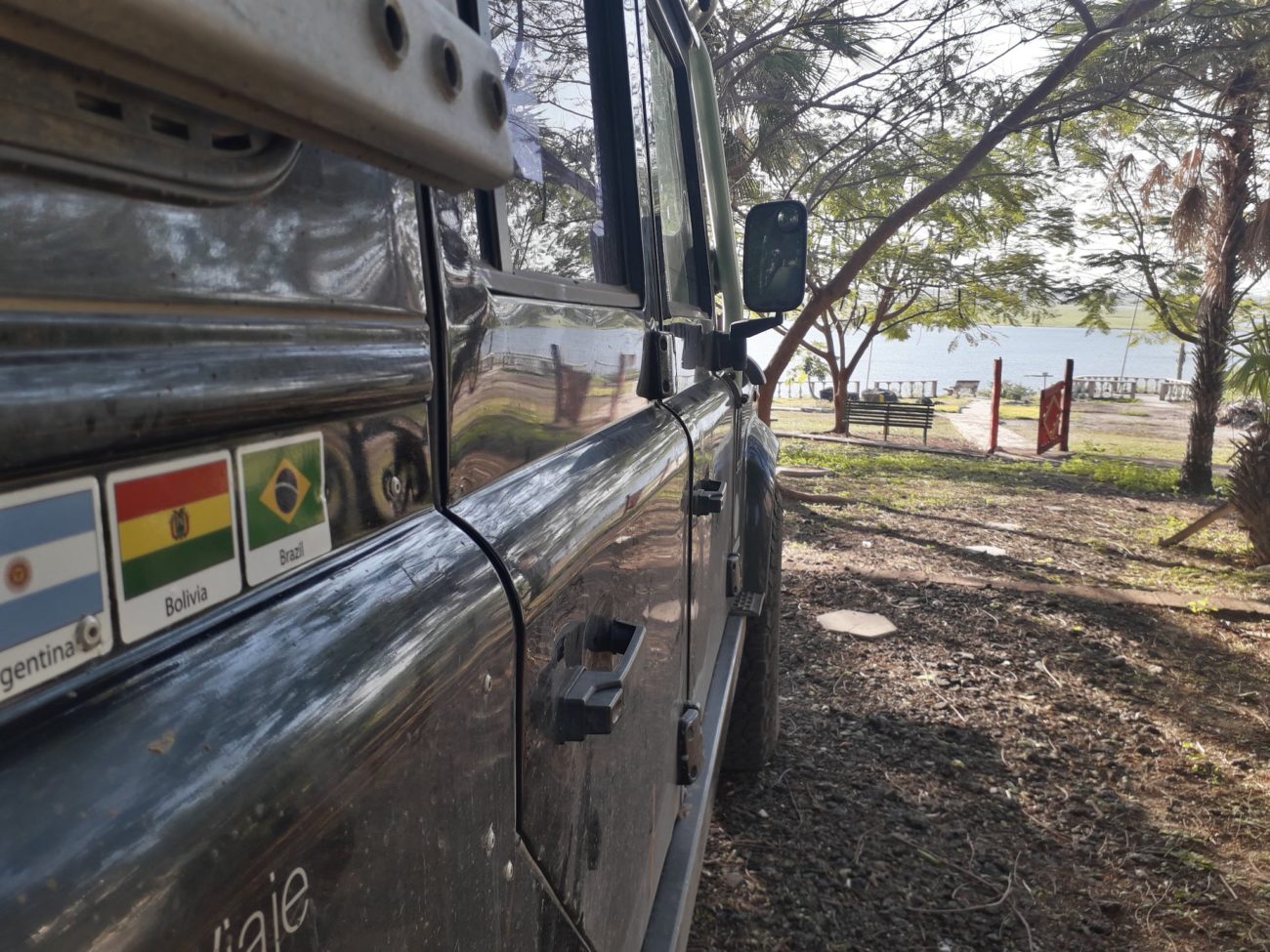 The Pantanal is the world's largest wetland that lies mostly inside of Brazil. There are a few roads and boat rides that allow you to explore it. The Landy was in need of new bushings, so we decided to take the less adventurous southern road and skip a large chunk of the torn-up back roads there. We still saw lots of wildlife – caiman, fish, capybaras, and a lot of birds.
Our next stop, Bonito, is a popular tourist destination and we caught it during some heavy rains. After 2 days of nonstop rain, the temperatures stayed chilly so we scrapped plans to go snorkeling in the river. Basically, the rivers were murky with runoff water and the outside temperatures made jumping in the water even less inviting. All the attractions in the area were also pretty pricy and the one we were most interested in looked a whole lot like the many cenotes we visited back in Mexico. So, we continued on…
From Bonito it was a 2-day drive to Foz do Iguaçu. We skirted along the border with Paraguay, coming within 500m of the border at one point. Unfortunately, Rachel requires a $160 visa to enter Paraguay, so we decided not to pass through the country.
Iguazu Falls, Brazil's most famous tourist attraction was… well, busy. After 2 days of driving, an expensive entrance ticket and queueing for an hour to get on the buses that transport you to the falls, we arrived at another queue to walk down the trail along the falls. Then queued to get to a clearing with a viewpoint of the falls, packed with selfie sticks and other tourists. The falls are a beautiful wonder of nature, but the whole experience to see them was underwhelming. Knowing what we know now, we'd recommend going in the evening. When we returned, the lines were so much shorter. And when we had passed by the parking lots around 3 pm the day before, not a single person was waiting for the bus. We can only assume that the trail to see the falls was also less chaotic.
We headed out of Iguazu in a bit of a funk and made our way to the small farming community of Entre Rios on our way towards Curitiba. We only intended this as a short layover, but our lovely hosts and the interesting history inspired us to stay for 2 nights.

First, a small bit of history: After WWII, the area was settled by Donauschwaben (Danube Swabians) with the help of Schweizer Europahilfe (today known as Swiss Aid). The Donauschwaben are ethnic Germans from the Danube valley of eastern Europe (Hungary, Croatia, Romania, etc). They brought farming knowledge with them and helped develop the land into a productive agricultural area.

Walter and Caro are 2nd generation Donauschwaben, speaking both Portuguese and German, and as avid travelers, they welcome Overlanders to camp out at their property. They showed us around the villages in Entre Rios and we learned about the history of the town at the museum. We also met Walter's parents, who immigrated to Brazil as teenagers. They speak a uniquely Swabian dialect of German, which is a trip to come across in the middle of Brazil.
Last but not least, the area features a few great breweries!
All in all not your typical tourist destination, but after our Iguazu experience that's what we wanted!
From there we were in a bit of a rush to get to Sāo Paulo for a mechanic appointment, so we only had half a day to poke around Curitiba. The city is clean and full of parks. We drove past a few Niemeyer architectural gems, visited the outdoor Wire Opera House and Parque Bargui.
Then a quick drop into Sāo Paulo for some (last?) Landy maintenance.