There are so many cute towns in Latin America and we will miss exploring them when home. We encountered photogenic town plazas, colorful streets, scenic backgrounds, street food served by friendly locals and so much more. It was hard to just name 10 of our favorites, but each has a unique quality that stands out in our memory.
1. Guanajuato, Mexico
Well preserved colonial architecture, colorful buildings built into the hill, great coffee, food, people and museums. We were in this University town for 3.5 weeks while attending Spanish classes and fell in love. Read more about our time in Guanajuato here.
2. Ouro Preto, Brazil
Just as hilly as Guanajuato but a lot more touristed. We enjoyed the colonial architecture and surrounding hills of Minas Gerais. There was a church at the top of each hill, which is a testament to its previous gold wealth. Read more here.
3. Barichara, Colombia
This town claims to be the cutest village in all of Colombia, and who are we to argue? The surrounding hills and walks add to the appeal. On top of that about a 30min walk out of town is the probably best campsite in all of South America. Read more about what we loved here.
4. Antigua, Guatemala
Not a lot of places can swarm with tourists without losing its appeal. Maybe it was the brewery with a rooftop patio and views of volcanoes? See why we enjoyed it here.
5. Jardín, Colombia
The surrounding green hills and colorful buildings are easy on the eyes. We also saw a cool waterfall and unique birds with a funny name. Read about it here.
6. Puerto Varas, Chile
Sometimes a nice location and good beer are all we need to be happy. And a camp/hostel with the worlds best shower. This is the point where the Lakes District ends and Patagonia begins. See the other photos and reasons here.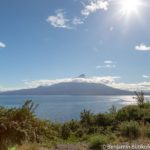 7. Campeche, Mexico
The old town was our first stop on the Yucatan peninsula and has a well preserved partial city wall. The center and waterfront are colorful and just so stinking cute. You can read about why it charmed us so much here.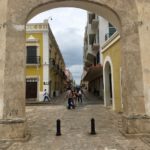 8. San Martin de los Andes, Argentina
We stopped in San Martin for a couple days and ended up staying a week. It's a ski resort in the winter, and we enjoyed that alpine vibe. See what we saw on our blog post here.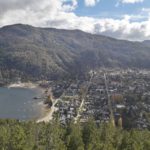 9. Bernal, Mexico
Trying to narrow down the cutest of all the cute Mexican towns is just so hard. We could have 50 runners up from Mexico. Bernal was cute AND is home to the third largest monolith in the world! See more about that here.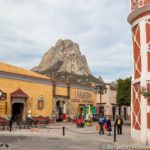 10. Ushuaia, Argentina
End of the world! We were greeted with a feeling of accomplishment and snow. Read about our cozy stay at the furthest south we drove here.