After a brief visit back to Switzerland to help clear the apartment and take care of administrative items, we are now all on the road – Ben, Rachel and Mitzi. After a 12 hour flight to LA, we spent two uneventful days in the city before heading out on the road again.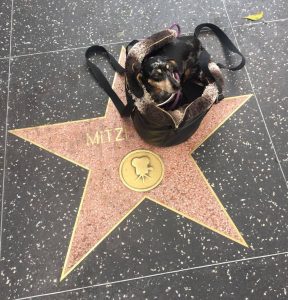 Our first stop was Joshua Tree National Park. The camping at the park is first come, first serve, and fills up quickly on weekends. We were lucky to arrive early on Thursday and secure a spot at Ryan Campground. By the end of the day the whole park was full! National Parks don't allow dogs on trails, but this one did allow dogs in the camping area. We were limited to shorter trails in turn, while the other person stayed with Mitzi at the Landy. We were still able to see some spectacular landscapes and sunsets.
After Joshua Tree, we swung through La Quinta and Palm Desert to pick up groceries and then headed up Highway 74 and spent a windy night on the pass. The following day was a Wiener Dog Festival in Temecula! For Ben this was a totally new experience, to see so many wiener dogs and owners just as crazy as Rachel. Mitzi competed in a wiener dog race, and placed 3rd in the Senior dog division!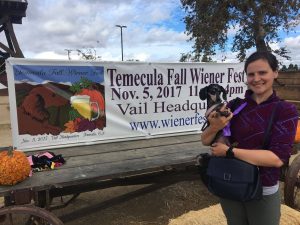 The 4th night we went to Palomar Mountain State Park. This was the day Daylight Savings ended, and now we have sunsets arriving at 5pm. The following night was a real treat – our camp neighbor from Joshua Tree, Steve, invited us to stay with him and his wife Kumi in Oceanside. They were amazing hosts, with great food and a comfortable bed for the night. This marks the start of some beach time for us now!