Here we enter the border jumping portion of our trip! We now have pages of passport stamps from Chile and Argentina as well as a stack of export paperwork for Mitzi. Luckily, the border agents (with one minor exception) were all well trained and efficient. We probably spent more time at the border of Honduras than we spent on all the jumps between Chile and Argentina combined.
Parque Patagonia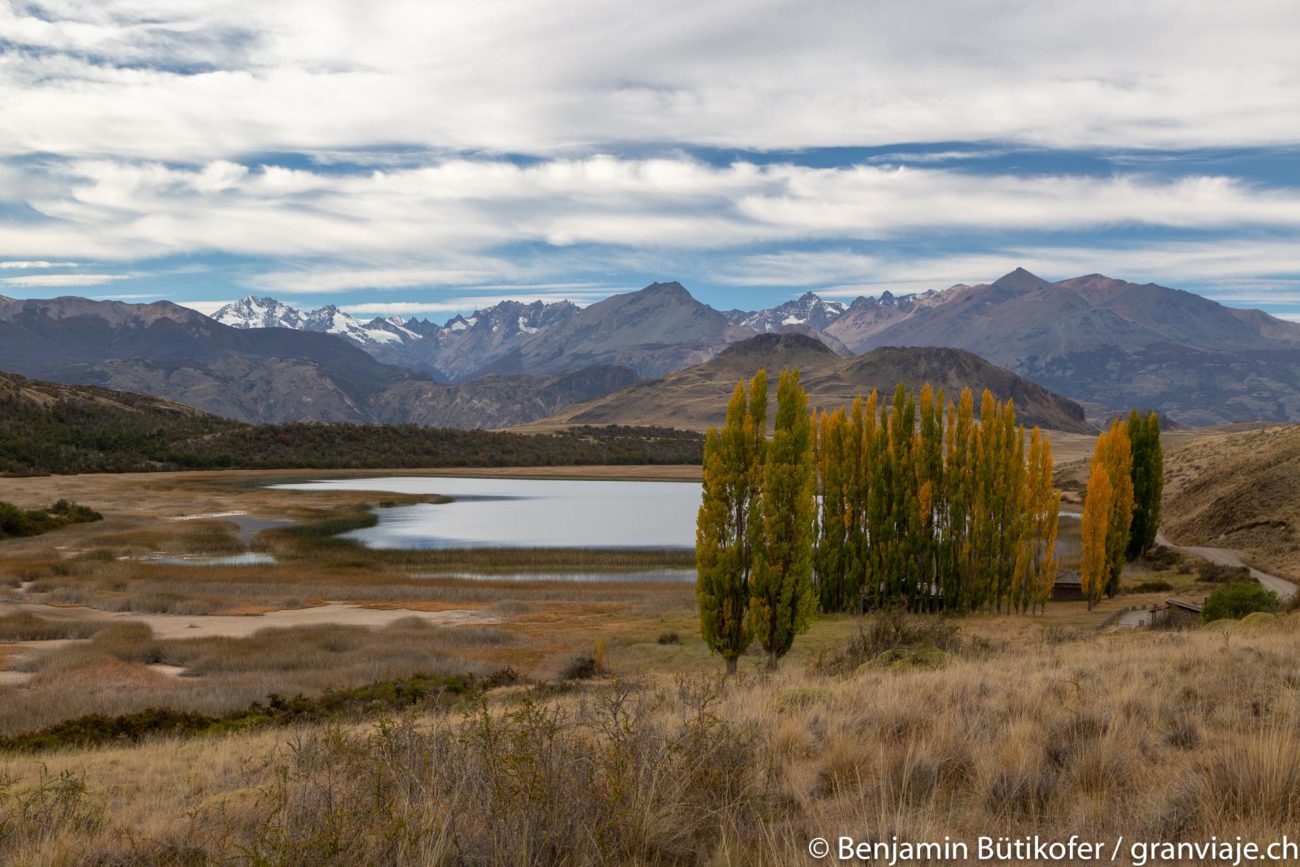 The newest National Park of Chile was officially opened in 2018, though the trails and conservation effort existed before as one of the many Thompkins projects in the region (The North Face / Patagonia clothing brand super duo). The park is a nice stop on the way over to Argentina, but don't be silly and stay in the campground like us*. Crazy expensive! Man, Chile can be rough on the budget. Good thing we were heading out.
*While looking for a place to spend the night, a Park Ranger passed by, asked what we were doing there, saw Mitzi and was not amused – but he was nice enough to send us to the official campground. Dogs are officially not allowed in National Parks in Chile (not on roads, campgrounds nor trails).
Once you pass into Argentina the landscape totally changes. It's a bit like the US Southwest, but not quite so remarkable. We finally got to experience the crazy Patagonia winds on our 2 days of driving south through Argentinian Pampa.
El Chaltén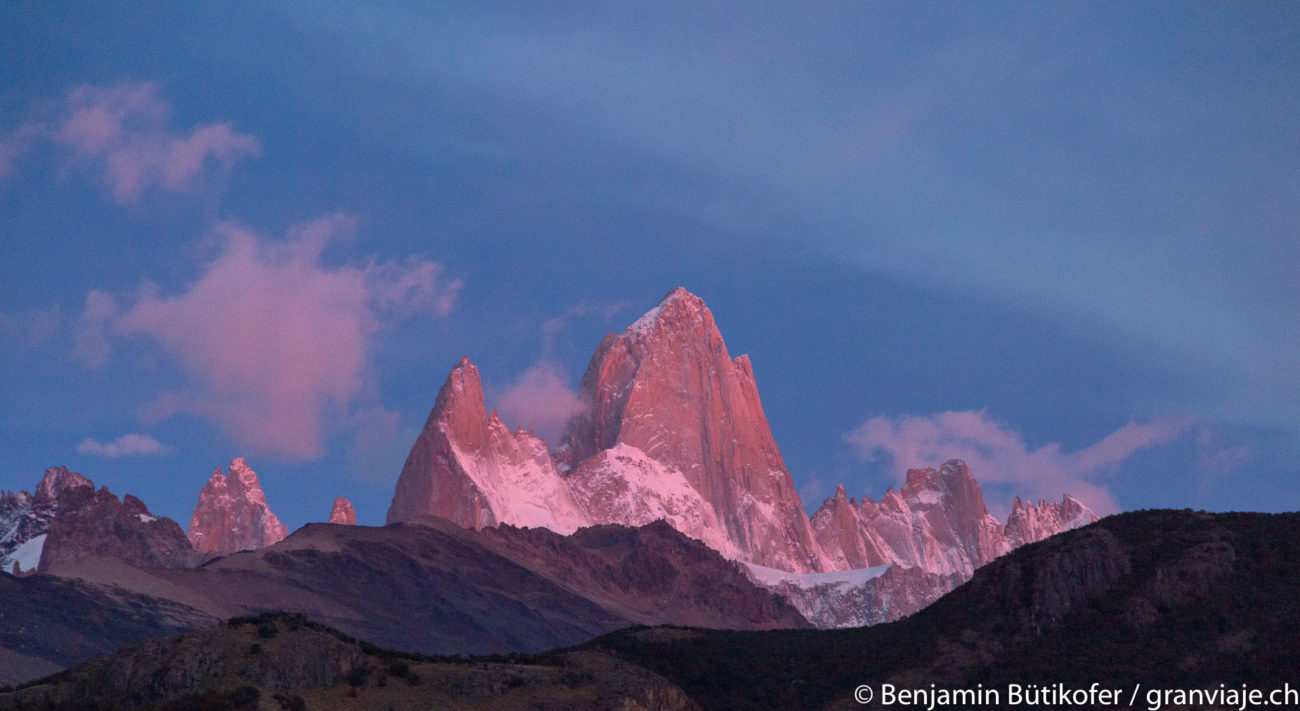 It was cloudy and drizzly when we rolled into El Chaltén but our luck rolled in a day later and we had perfect hiking weather! The hike to Laguna de los Tres at the base of Fitz Roy was spectacular and we had clear blue skies above.
Another bonus to traveling in the shoulder season is quieter hiking trails. They already felt at capacity to us. And you could have fooled us that it's not high season when you saw the free campsite at the entrance to town. It was packed! And it's a great place to run into overlanding friends and spot a wild armadillo. Side note: Armadillos walk exactly like Mitzi. Or Mitzi like an armadillo? Put her in the red jacket and it's hard to tell them apart!
Glacier Perito Moreno
This is a big old glacier. It's HUGE. Mind bloggling gigantic. And it is one of the few glaciers in the world still advancing. We had rain on our visit, but also a rainbow!
Magellanic Penguins
Is it worth to drive 2 hours each way (about 105km one way) down a rough and bumpy road just to see some penguins? OF COURSE IT IS. Since some bad weather was passing through the mountains of Patagonia, we headed east to visit these little cuties! They're not much larger than Mitzi and burrowed down under brush to protect from that crazy Patagonian wind.
King Penguins
Those cute little penguins weren't enough, so we headed to see more! A colony of King Penguins live on the Chilean side of Tierra del Fuego. This is the only King Penguin colony you can reach by car. These guys are the second largest breed of penguins (only the Emperor penguins are larger) and live on sub-Antarctic islands such as the Falklands and South Georgian Islands. The penguins settled on private property a few years ago and the owner of the land setup a beautiful park around it. The entry is steep (about $20 per person) but you get an interesting introduction into the King Penguins and they've setup great looking glasses. Unfortunately my 200mm Canon lens was not quiet up to the task and doesn't properly focus anymore but taking cellphone pictures through the looking glasses works too!
The End of the World – Ushuaia
From the King Penguin colony, we were only 4 hours of driving and one border crossing away from Ushuaia. Ushuaia is the southern most point on earth that can be reached by car. We have a few passport pages to spare and all the paperwork for Mitzi in hand, so Rachel gave up her argument against the drive and down we went! The city sat just below the snow line so we drove uphill and played in the fresh snow! We've sure missed the winter! Ushuaia itself is not an interesting city, however the setting is really beautiful.
We treated ourselves with a nice apart-hotel room, and wanted to go hiking the next day. the next day, we were glad we had a heated room! Overnight quiet a bit of snow fell, so our hike to a glacier was cut short because we didn't have snowshoes but it was a lot of fun anyways, we even built a snowman!
Torres del Paine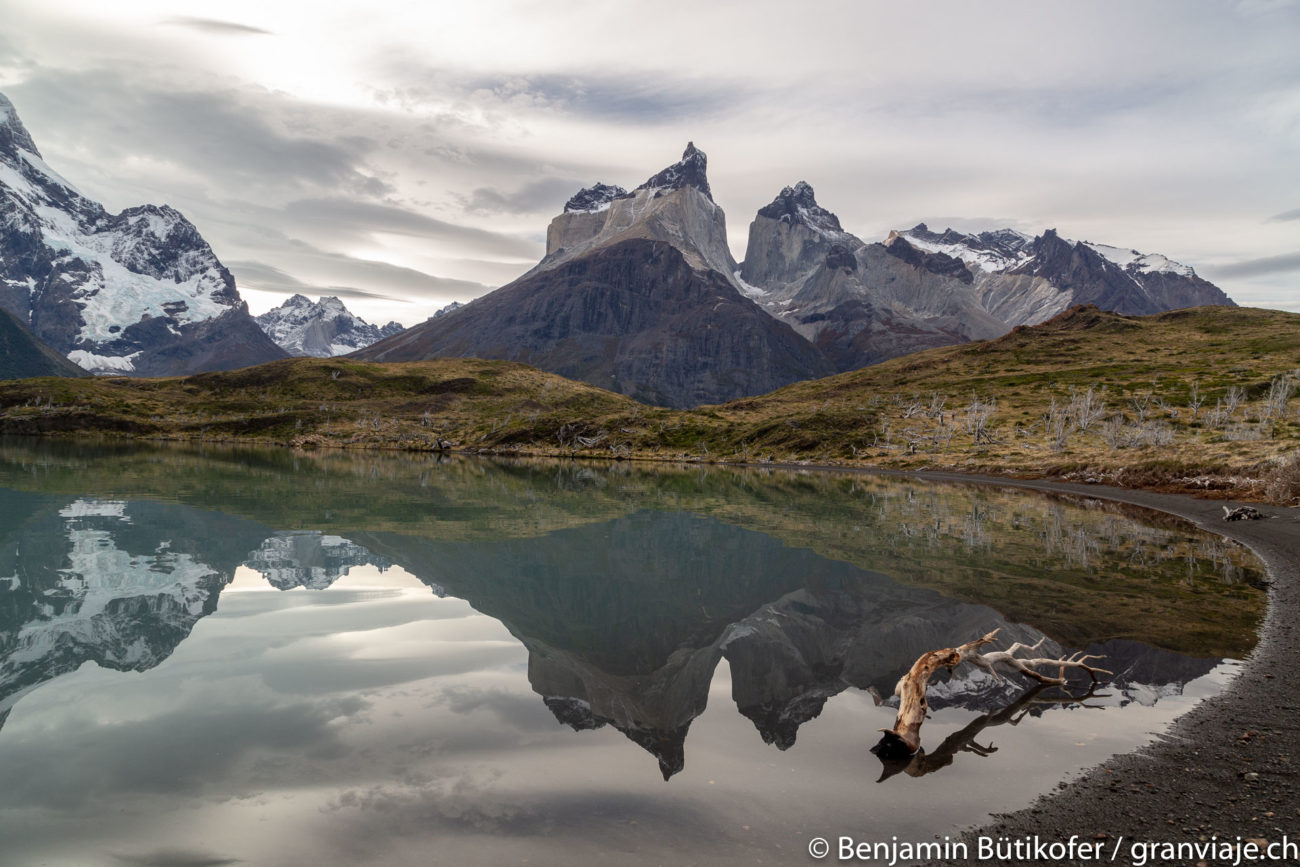 We were chilling in Ushuaia and contemplating staying another day, but the weather report showed a few sunny days ahead in Torres del Paine so we zoomed back North, visited a ghost town including two ship wrecks, crossed into Chile for the 3rd time, and took full advantage!
The weather was perfect, no wind, sunshine and a few clouds. Great for hiking and photography!
The National Park is super popular and busy. Another reason to travel in the shoulder season! The trails were still busy, but we managed to run into a friend from Zürich on the hike up to Las Torres. We also hiked to a viewpoint of the Grey Glacier and two vistas of the Torres massif.
Our crazy route of the last few weeks: