We spent four weeks in Medellín to attend Spanish school and explore the city. Our Spanish school Colombia Immersion was wonderful and we can recommend them to anyone! It is a fun and interactive program where we spent plenty of time working on grammar but also working on conversation and having fun. We aren't paid by the school, don't worry! We just the liked them a lot.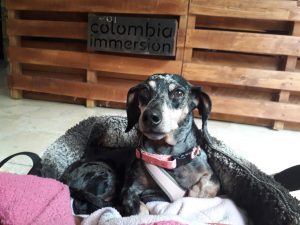 The city of Medellín turned out to be a bit of a love-hate experience. I'll start with a bit of the hate, so if you're not interested you can skip the next 3 paragraphs and see all the pretty pictures below 😉 We arrived in the city after a few hours on the road and dealing with traffic. The road descended into the city from above and we caught our first view of the skyline… and the smog. Our first lesson about the city: It's industrial. And that isn't so pretty. Excitement for the city wasn't too terribly high at this point. It isn't pretty but at least it is very interesting. It was the home of Pablo Escobar, aka The Infamous Criminal, aka He Who Shall Not Be Named. Not too long ago it was the most dangerous city in the world with an insanely high homicide rate.
Sounds like the kind of place you want to spend a month, right? Obviously, things have turned around for the city and it is now a tourist hotspot. The city is hugely popular with backpackers who usually stay in the party district Poblado. Unfortunately for us, the buzz around the city led to high expectations and a lot of letdowns.
A lot of the excitement for Medellín also comes from glamorization of Escobar in pop culture from shows like Narcos. We have to admit to not having seen the show and not being too interested in that aspect. We were amused to find out our school was in the building The Infamous Criminal was killed and see tour buses stop by daily. Wonder how many photos were snapped of the building with Mitzi taking a pee break out front?
Enough of that, what did we do with a month in the city? We stayed in the residential neighborhood Laureles and we ate a lot of good food, drank a lot of good coffee, good beer, and visited Starbucks more times than I would like to admit. And of course, learned a lot of Spanish! We toured a lot of neighborhoods as well.
Centro with Real City Free Walking Tours
Our guide gave an interesting and well summarized history of the city and the armed conflict. We visited the sights of center city, most notably the bronze statues of Fernando Botero. Highly recommend to anyone visiting Medellín, for 2 days or 2 months or 2 years!
La Sierra
This barrio was originally an illegal settlement in the hills above Medellín. Folks that moved to the city to escape the violence in the countryside didn't have anywhere to live, so they found undeveloped space on the hillsides above the city and built their own homes. There was no infrastructure, sewage, roads, or electricity. And the physical separation from Medellín made it hard for people to find work. The paramilitaries, Guerrillas, and Cartel moved in and violence broke out. The history in La Sierra is shared by many other neighborhoods. La Sierra became famous for a documentary made of the violence in their neighborhood. After the violent groups were removed by force, the city put a huge effort into transforming it. They have invested in public spaces, good schools, and public transportation. A cable car now connects the neighborhood and the city below, which opens work opportunities for people in this community. The cable car is connected to the metro network and center of the city by a new tram line. Along the tram line are beautiful works of public art – from colorful graffiti to detailed mosaics depicting the history of the city and its rejuvenation.
Comuna 13
The most famous Barrio transformation of Medellín is Comuna 13. Similar to La Sierra, the formerly dangerous neighborhood was transformed and today it is a tourist highlight. Outdoor escalators and public art draw in tons of tourists.
Poblado, Ciudad del Rio and Pueblito Paisa
We spent a day exploring the more popular parts of the city on foot. Poblado and Ciudad del Rio are a hipster's dream come true. Pueblito Paisa is a pretend village on a hill in the middle of the city – but more impressive was the nice view.
Eating our way through Medellín
The gastronomic scene in Medellín is great and we took full advantage. From cheap lunch specials for about $3, to sampling of exotic fruits and local craft beer. A favorite coffee shop near our Airbnb received all their coffee from the neighborhood La Sierra, and a pastry shop not much further was started by a Swiss couple in the 1930s and gave us a taste of home. We learned to make Patacones (twice fried plantains) with our school and enjoyed a wide variety of international foods, from Korean BBQ to Lebanese Schwarma to Italian style pizza to Argentinian empanadas. In spite of all this eating, we managed to skip the one dish Medellín and the surrounding region is most known for: the Bandeja Paisa.
Piensa Rosa
To help burn all the calories off, Rachel signed up for a 10km run in the city and managed not to come in last place! It wasn't a very scenic run, but fun to participate in a local event.